1989 seems life a life-time away, it was the year Samuel Beckett died, Fair City came on the air and the Irish film My Left Foot won a number of Academy Awards.  It was also the year Lily Collison set up a new training company called "Shannon Quality Training" focused solely on the delivery of just one course, ISO 9000 Lead Auditor Training.
In November 1989 the very first SQT public training course was held in The Dromineer Bay Hotel, Nenagh and this is what the first booking system looked like…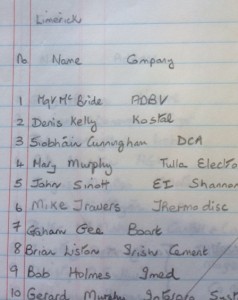 Delegate No 3 was me.  Early SQT customers included Kostal, EI Shannon, Irish Cement, Pfizer, Alps Electric, Apple and Dairygold Co-op and I'm delighted to say that all are still valued customers 25 years on.
Obviously very few companies can exist on one product alone so over the years, many more expert tutors from industry have come on board, helping SQT to expand into lots of new areas of learning.
In 2001 Shannon Quality Training officially became SQT Training Ltd and towards the end of that year, I packed my bags as Operations Manager in Dell and proudly joined the SQT team as Managing Director.   Since then the team has grown to 35 very talented and hard-working tutors, all supported by 9 wonderfully dedicated office staff with lots of computerised booking systems.  To date we have trained in excess of 50,000 people from  small to medium companies to large multinationals both here and abroad.  This year so far we have trained in 22 counties in Ireland as well Denmark, UK, Isle of Man, Libya, Spain and USA.
The world of training has changed dramatically over the past 25 years. When SQT started out the overhead projector was in vogue and not a smart phone in sight – now every delegate has at least one device in their pocket with access to vast amounts of free information at the touch of a button.  Back in 1989 the internet was still in its infancy; Blogs, Facebook, Twitter and online learning were not even early concepts.  25 years on the training choices and learning mediums  available to people are truly vast.
However when you really think about it, SQTs' challenge today is no different to that faced 25 years ago.  As professional trainers our job is still to help you understand the important stuff from the vast amounts of information out there, it's about making learning real, it's about engaging with you in a very practical way and empowering you with knowledge and skills to make a difference.
The overhead projector is long gone but we still have highly experience, industry experts delivering up-to-date training through direct communication, collaboration, analyses, critical thinking and problem solving…with the help of some clever technology!.
Not so long ago Mary Robinson said "we have 2 decades to save the world from permanent Climate Change", so my wish for the next 25 years is for us all to stay cool, keep evolving and learning and together, mind the important stuff so that 25 years on we are all still here….still learning, still sharing.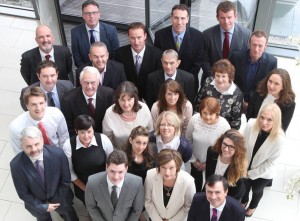 Thanks for your continued support.