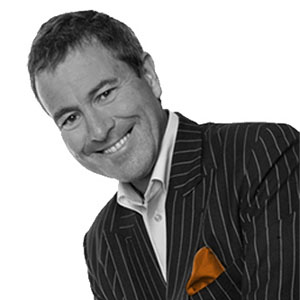 Padraic is one of Ireland's freshest and most uplifting speakers on business and personal development issues and a wonderful Storyteller. His mantra is that 'motivation gets you moving and routines keep you rolling'. Since 1988 he has helped thousands of business people realise more of their potential. With a background as a salesperson, marketing manager and owner of his own successful business, he has an excellent understanding of the issues facing people in business today. He is the creator of 'Smácht Bootcamp' and author of 'The Midas Power' and  'Rocking Horse Sh*t.'  His blog 'A Dose of Smácht' www.smacht.com was recognised as being in the top 20 business blogs in 2015 for its power to convey business through stories.
Padraic delivers keynote speeches and workshops in a dynamic style that has lasting impact on his audiences. He has developed and led a series of Management Development programmes including Customer's Come 3rd – A Process for Transforming your Business and your Life; How to Rethink the Way You Do Business; People are IT and his latest "Storytelling for Business".  He discovered that it isn't always the best person who gets the job, or the promotion, or the pitch. It's almost always the person who tells the best story. And although we have been telling and listening to stories all our life we haven't been formally mentored in how to craft and communicate stories that engage and enthuse and empower.
He trained as a coach and group facilitator in the US and UK. His ability to get people and groups clear on current reality, their desired futures and the actions they need to take has led him to work with some of Irelands most influential business leaders; government ministers; political parties; county sports teams; and charitable organisations.
He is a graduate of the National University of Ireland, Galway with a Bachelor of Commerce Degree and a Diploma in Marketing Practice. He continues to lecture to the Marketing Practice and MBA classes on aspects of management and marketing.