Under US Code of Federal Regulation CFR 117 each food manufacturer in the US must have a Preventive Controls Qualified Individual (PCQI). This individual must have successfully completed training in the development and application of risk base preventive controls using a standardized curriculum recognized by the FDA. The Current Good Manufacturing Practice, Hazard Analysis, and Risk‐based Preventive Controls for Human Food regulation (referred to as the Preventive Controls for Human Food regulation) is intended to ensure safe manufacturing/processing, packing and holding of food products for human consumption in the United States. The regulation requires that certain activities must be completed by a "preventive controls qualified individual." This course, developed by FSPCA, is the "standardized curriculum" recognized by FDA; successfully completing this course is one way to meet the requirements for a "preventive controls qualified individual."
Under the Preventive Controls for Human Food rule, the responsibilities of a "preventive controls qualified individual" include to oversee or perform
Preparation of the Food Safety Plan
Validation of the preventive controls
Records review
Reanalysis of the Food Safety Plan, and other activities as appropriate to the food
The FSMA concept is to move away from a reactive approach towards a preventive system. With FSMA there are seven rules which are specific to different types of foods, elements of the supply chain and stakeholders. With this level of complexity and change, the challenge for Irish indigenous and Irish based multinational food companies is to understand how these rules will affect their current Food Safety Management Systems.
The Food Safety Modernisation Act (FSMA) is the most significant change to US Food Safety legislation in over 70 years. The act was signed into law by President Obama in 2011. FSMA is in response to numerous food poisoning incidents that have occurred in the US over the past ten years. Figures released by the USDA estimate that each year over 48 million Americans become ill from food poisoning, resulting in 50,000 hospitalisations and over 3,000 deaths.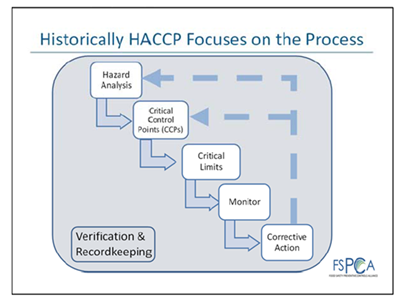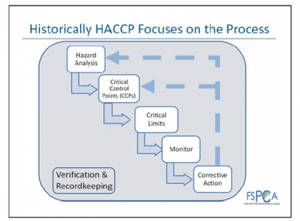 Figure 1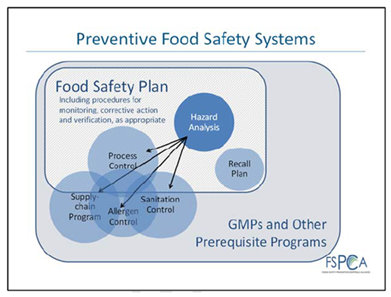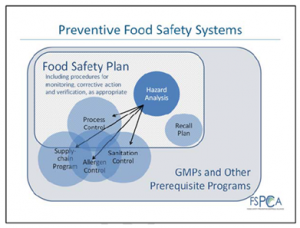 Figure 2
Figure 1 & Figure 2 from the Food Safety Preventive Control Alliance (FSPCA) above show the similarity and difference between HACCP and FSMA. Both employ a similar logic however, FSMA moves away from the traditional HACCP approach of just being focused on the manufacturing process to address the entire supply chain. It also stresses the point that most food poisoning incidents are not due to CCP failures hence the focus on Preventive Control Procedures, PCPs.
Figure 3 below of a "preventive food safety system" identifies how FSMA requires four of the traditional GFSI pre-requisites of supply chain programme, allergen control, sanitation control and recalls plan to be included in the Food Safety Plan. This is in direct response to what was seen as major flaws in recent US food poisoning investigations most noticeably in the salmonella typhimurium contamination of peanut products.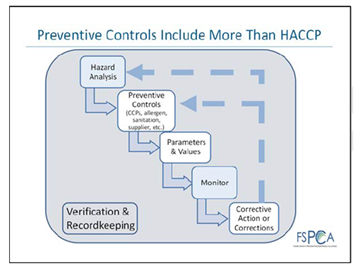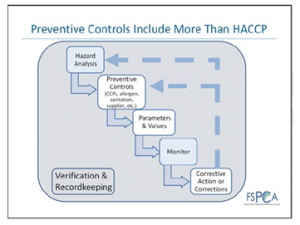 Figure 3
Collapse