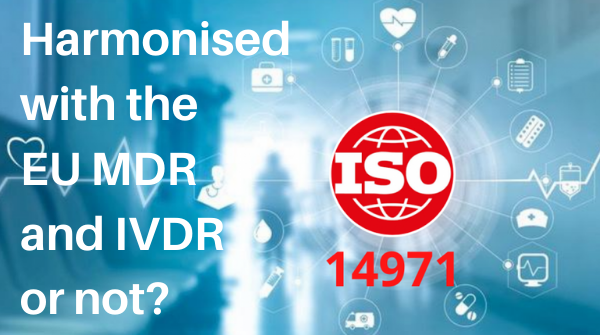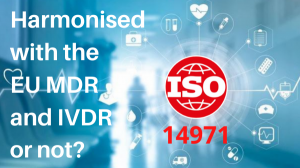 EN ISO 14971 is arguably the most important of the all the Medical Devices standards as it concerns Medical Device safety and it forms a significant foundation for a number of other standards such as; EN 62366 (Usability), EN 62304 (Software Lifecycle), EN 60601 (Electrical Safety) and EN ISO 10993 (Biocompatibility). However, there is a distinct possibility that it may not become harmonised to the EU regulations MDR 2017/745 and IVDR 2017/746, at least not in the next two years.
Ever since the publication of the revised version of EN ISO 14971 in 2012, this standard has been the problem child of Medical Device standardisation.  The difficulties with EN ISO 14971 centre around differences in the wording of requirements for risk management between the standard and EU Medical Device Regulations. A debate has been ongoing as to the significance of these differences and also as to the extent to which ISO 14971 fulfils the requirements of the EU regulations.  EN ISO 14971:2019 was developed with the aim of addressing any differences between it and the requirements of MDR 2017/745 and IVDR 2017/746; however, the initial Z Annexes proposed for EN ISO 14971:2019 were rejected by the EU HAS consultants. CEN produced a revised series of Z Annexes but these were again rejected by the HAS consultants. There is now a feeling within some CEN committee members that the issues cannot be resolved through the current HAS consultant's review process.  If indeed these difficulties cannot be resolved by the final remaining HAS consultants' review, then EN ISO 14971:2019 will not become harmonised and manufacturers will have to demonstrate compliance directly to the Safety and Performance Requirements (SPRs) in Annex I of the MDR and the IVDR with the aid of a standard that gives a presumption of conformance.
At the CEN committee meeting on 1st April, a view was expressed that the committee should make one final attempt at producing Z Annexes for approval by the HAS consultants. If this proves successful then we will finally have an end to the decade-long debate over EN ISO 14971 and the EU regulatory requirements for risk management. If not, manufacturers will have to use ISO 14971 for risk management compliance with international regulations and comply directly with requirements of Annex I of the EU regulations.
Update prepared by our Tutor & Industry Expert, John Lafferty
View our full list of Lifesciences Training Programmes here