You may have never heard of Google's knowledge graph but it's likely you're seeing it in action every day.  Just like the old sporting cliché, SEO is all about 'making the hard yards'. Taking every seemingly small SEO step and applying it to your SEO policy and activity will ensure you get the most from your Search Engine Strategy. And today, we're talking about one of SEO's unsung heroes – the Google Knowledge Graph.
Did you ever see a listing similar to this in Google's search results?
The section highlghted in red on the right is the knowledge graph.  You may also have noticed a carousal appearing at the top of a search, this is also part of the knowledge graph.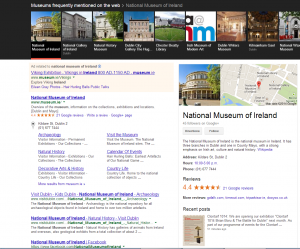 The knowledge graph (link to http://www.google.ie/insidesearch/features/search/knowledge.html)  is a knowledge base used by Google to enhance its search results.  The information in the results are gathered from a variety of sources and displays information on a particular topic and related topics in a structured way.
The main objective of the knowledge graph is to enhance the user's experience and make it easier to find information. If you search for Leonardo Di Caprio or National Museum of Ireland (as in examples above) you can see that information about that topic and related topics is easily available.  If you want to know more about a movie that Leonardo DiCaprio is in, you can simply click on it and access more information – again this happens by normal organic searches or the knowledge graph.
The knowledge graph also allows the searchers to go deeper. It allows you to make new discoveries and find things that are unexpected.
While Google looks for data across many different resources, one of the most exciting features about knowledge graph is that "it's tuned based on what people search for, and what we [Google] find out on the web".
Reasons why you should consider getting your company or brand listed
Gives you a larger presence on the page and provides searchers with a richer experience

It builds credibility and trust. Having a richer listing and one that helps the searcher find their desired information will start to build your business credibility and brand.

Control of your branding  – while you cannot control what Google displays, you can try to.  Google knowledge graph pulls a lot of its data from Google + pages, Freebase.com and Wikipedia which you can edit.

You do not have to be a big name to be part of it.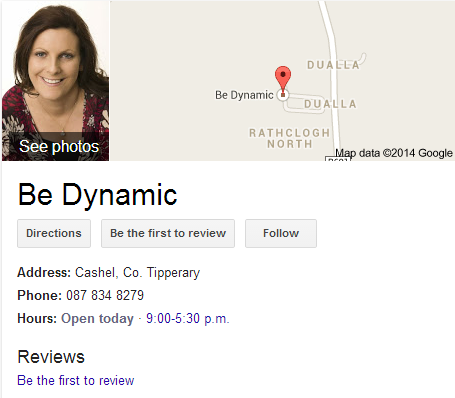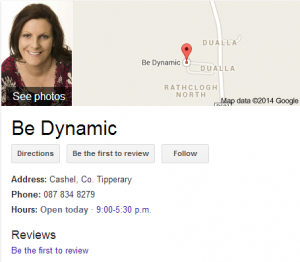 Do you want to be part of the knowledge graph and give your company a richer presence in the search engine results page?  To ensure you get your company or brand listed, Google must understand more about you and know where to source related information.
How to get you and your business listed on Google's Knowledge graph
Set up a Google + business page for your business or brand.  Ensure that you complete the 'about' section and add your website, blog, email and contact details.  Now that you have a page, do not just leave it sitting there, use it to network and engage with relevant people in your industry and clients. Using the G+ page features will help provide Google with key information about your business or brand e.g. events you are running, your video channel, your website etc .
Set up your Google + Local page (previously Google Places).  This shows your location, contact information and  a description of your business.
Submit your business to Google's freebase.com database.  Keep it factual and not spammy! Add in core information about your business like ….other trading names for your business, do you have a registered name that people may search for?  You should also include a description – describe what your business does (remember be factual!).  Include relevant images, social media links and more.
Wikipedia – search and see if you are mentioned in Wikipedia and ensure it is factual and correct. If it is not correct, there are specific guides around how to get this edited as they discourage businesses editing their own content – see their guide here http://en.wikipedia.org/wiki/Wikipedia:FAQ/Organizations#May_I_advertise_my_organization_or_its_campaigns.2C_clients.2C_products.2C_services_or_leading_individuals_on_Wikipedia.3F
Use Google's data highlighter in Google Webmaster Tools.  This will allow you to highlight key elements on your page like product details or articles.
Include rich snippets (reviews) if you can. For more information on this visit https://support.google.com/webmasters/answer/99170?hl=en

Verify your website's structured data http://www.google.com/webmasters/tools/richsnippets . The Structured Data Mark-up Helper shows you how to update your site so that Google understands what the data is.  It's about tagging your website correctly so Google can use it correctly and present your data in more attractive ways.  The rich snippet above is one example.
Use www.schema.org  mark-up on your site – this is one for your developer. This will help Google to understand your website content and display it correctly and more dynamically.
Set up Google+ authorship for your website / blog and any other blog or website you contribute to. This allows Google a better understanding of the content you are creating and will result in your headshot appearing beside your listings in search…

Set up a Google + profile, include your head shot and verify your email address – like with your G+ page you need to ensure you do not set up for the sole purpose of the knowledge graph.  Use it to network within your industry, potential and clients.
In the section called 'Contributor to', include links to all websites / blogs that you contribute to.
Create an author link from the content you are publishing <a rel="author" href="https://plus.google.com/u/0/113204522162570095490/posts">Sandra Hennessy</a> (change the link and name to your G+ profile link and your name)
While you have no doubt heard it many times, it's true…there are no quick fixes in Organic SEO anymore. But there are many ways you can improve your ranking in an organic and ethical manner. By working with Google and contributing wholeheartedly to the entire Internet landscape, you'll ensure you and your business are easy to find and your online voice will be heard.  Outside of all the above, you need to be active in your industry, publish articles regularly and keep your website and online profile(s) up to date.
Google's Knowledge graph is an online phenomenon that you need to be part of. For more on applying SEO tools to only the highest standards, why not visit our www.bedynamic.ie /blog