We're delighted to continue to support to our chosen charity 'The Blue Box' in their new "Much Loved" Campaign.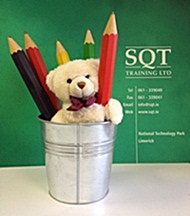 The Blue Box is a local Limerick charity that does fantastic work with children and young adults helping them to work through issues and traumas through the effective use of music, art & dance therapy. Many local schools sing their praises because of the great work they do, so all help is greatly appreciated.
To donate €4 to the "Much Loved" Campaign just text BEAR to 50300, then post & share a selfie of you and your favourite childhood teddy bear. In addition to raising much needed funds they hope to raise awareness of the need for a stable childhood, for all children.
Here's our little SQT teddy bear selfie
…ok so he's not actually our childhood teddy…and none of us are quite sure how he sneaked in to the SQT office but we've all got a soft spot for lovable rogues, so we guess he's here to stay!